There's a lot of talk about "5D Earth" and how the Age of Aquarius will allow us to enter the 5th dimension, but not much explaining the process. Below I've given an in-depth synopsis of how to transition to greater spirituality. Let's go over the first 4 dimensions of consciousness so you might have a meta-view of how complex our world really is.
CONSCIOUSNESS IN THE 1ST-DIMENSION
1st-dimensional consciousness is still. The level of consciousness that resonates in this dimension is the "Mineral" Kingdom. We are presently residing in 3rd Dimensional consciousness and our current science has not proven that 1st-dimensional minerals are conscious beings. Curiously, healers and shaman have been using crystals as healing tools for centuries. Based on my personal experience with crystals, I believe there is consciousness at the mineral level – however subtle.
In humans, the first dimension is a portion of our bodies representing minerals, water, and genetic codes that are the foundation of our physical forms. If we were to access this level of our unconscious, we could connect with the individual molecules in our environment. This level is the gateway between the microcosm and the macrocosm.
CONSCIOUSNESS IN THE 2ND-DIMENSION
2nd-dimensional consciousness is flat. The consciousness that resonates to this dimension is that of the Plant and Animal Kingdoms. This level does not possess self-awareness. These beings are only conscious of their species, and survival needs like feeding, fighting, and procreation. They live solely "in the moment" and based on survival of the fittest.
Human second-dimensional consciousness serves to direct the lower brain, autonomic nervous system, and to regulate life support functions. Our five physical senses resonate in the 3rd dimension, and these functions are an unconscious component of ourselves.
Unlike "civilized" humans,"primitive" peoples are much more aware of their "animal instincts" and how they are part of a greater whole – with respect for all life forms and the balance of Nature.
CONSCIOUSNESS IN THE 3RD-DIMENSION
3rd-dimensional consciousness contains length, height, width, depth, and volume. The consciousness of this dimension resonates to the higher Animal and Human Kingdoms. It has all the elements of the 1st and 2nd-dimensional beings including water, minerals, genetic coding, biological matter, awareness of species, survival functions, as well as an individual soul. The individual Soul distinguishes humans from the others in the Animal Kingdom who have a group Soul.
3rd-dimensional consciousness is trapped in a time/space and cause/effect paradigm. This dimension and 3d Earth is a "school" which our Souls attend by inhabiting humanoid physical bodies to gain more information about creation. Life mirrors what we are seeking to understand, and creation occurs via our thoughts and feelings. Manifestation is slowed down in order to track the circumstances of what we hold in our consciousness through the experience.
As w
e progress through life, we go from powerless to independent. We begin to understand our personal power, gain responsibility, self-confidence, and learn to trust ourselves. As we gain trust and respect for ourselves, we become confident and self-reliant. Then we can become responsible for others. This is the progression of life in the 3rd dimension which typically coincides with age in this time/space reality. A dysfunctional family is created when we become parents (responsible for others) before we have completely exited the dependent stage. We end up with several generations living as dependents, and no one with the self-confidence to be responsible for others.
The conundrum of the 3rd dimension is that society and science programs us to believe the only reality that exists is the one we perceive with our 5 physical senses. This dimension only contains length, height, width, depth, and volume. However, because we have an individual Soul, the ability to remember the past & perceive the future, AND simultaneously we can remain aware of the present – we tend to use our 3rd-dimensional reality to advance ourselves and question "what more is out there?"
The trap at this state of consciousness is that the spirit congeals into matter, and consciousness is limited to the individual ego. The development of a strong sense of ego is gained, at the cost of losing our sense of group identity. We often trade our sense of group identity for a strong sense of ego. Awareness of our Spiritual Self, I don't mean through religion, is remembered when we expand our consciousness to encompass higher dimensions. If we release our dependency on others and forgive those who made us powerless victims, we ascend to higher dimensions where we are aware that we alone create our reality. Our early 3rd dimensional "unconscious" self-sabotage, no longer takes place. Our consciousness expands from individual consciousness to group > community > national > collective > planetary > and ultimately galactic consciousness. To reach the 4th dimension, we must eliminate all fear and negativity. The most important areas to master are love, oneness, forgiveness, and gratitude.
CONSCIOUSNESS IN THE 4TH-DIMENSION
4th-dimensional consciousness contains everything from the lower dimensions, our astral self, and the realm of dreams. The fourth dimension is also known as the Astral Plane, where our "higher" selves or OverSouls reside. This plane is etheric and our perception of past, present, and future is more fluid; known as the realm of telepathy, psychic ability, imagination, intuition, magic, dreaming, and creativity. At this level, we reintegrate our individual identity into the group as it is the last vibration where physical vessels contain individual consciousness. It is the realm of the "shape-shifters" in mythology. Many shaman can actually ground their astral form upon the 3rd dimension to temporarily change form. As the 4th dimension is not restricted by time or space, we can dream of an entire lifetime and wake up to find that only fifteen minutes of physical time has passed.
The fourth dimension holds awareness of our body's 1st & 2nd-dimensional components, as well as all our past third dimensional lives. Other than conquering fear & negativity, we can expedite the process to achieving 4th-dimensional reality by meditating, remembering our dreams, and having intense experiences of passion, creativity, emotion, empathy, or spirituality.
Technically, while sleeping we are unconscious in the 3rd dimension and conscious in the 4th dimension.  If born with an innate connection to the 4th-dimension, we must "work" to ground our consciousness in the 3rd-dimensional world, no matter how confusing or hostile. Those born without this 4D connection may not even believe in the "higher self" and are inadvertently cut off from experiencing greater realities.
Our higher astral self can give us guidance through expanded perception, but the 4th dimension still has the polarity of light and dark. In the 4th dimension, thought and feelings create reality much more quickly than in the 3rd dimension. It is dangerous to have any lingering fears in this realm, as it will create evil as easily and quickly as love creates joy.
4D Subplanes
The Lower Astral Plane
This is where all the fear and negativity are projected from the 3D physical plane. Known as "Hell" by many religious sects, this is the true darkness. Put simply, 4th-dimensional consciousness amplifies 3rd-dimensional emotions. If you are living a poor existence in the 3rd-dimension, you are likely experiencing Hell in 4D, and a path must be forged to higher astral planes.
The Middle 4th-Dimension
Also known as the Land of Faery, this realm is the pathway through the fear and darkness of the Lower Astral Plane. After we have experienced Faery, we can travel in our 4D or astral bodies to the Emotional Plane, and learn to master our emotions. We can also travel into the Mental Plane and learn mastery of our thoughts. The Causal Plane, or Higher Mental Plane, is where we master the Law of Cause and Effect. Finally, the Spiritual Plane connects us to higher guidance, God, Source, and the Great I AM. I have listed the subplanes below from highest to lowest:
SPIRITUAL (CAUSAL): Master the Law of Cause and Effect & Spiritual Guidance
MENTAL: Mastery over our thoughts
EMOTIONAL (ASTRAL): Mastery over our emotions
LAND OF FAERY: Pathway out of Lower Astral; mixes emotional, mental, & causal
LOWER ASTRAL: Mastery over fear and negativity
ETHERIC: interface between 3D & 4D
The Etheric Body is a vibration between the third and fourth dimension. This body encompasses the physical body.
4th-Dimensional Bodies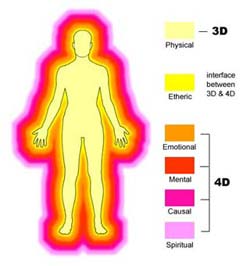 All the 4th-dimensional bodies exist over, under, around, through, above, and below the physical body, but are not seen with the 5 physical senses. If we learn to perceive the 4th dimension consciously, we can expand our awareness enough to enter the Superconscious Mind of the 5th dimension.
Fearful emotions make for a tumultuous and uncomfortable ride. Higher planes will remain out of reach if our personal imbalances are not corrected. To journey through higher planes we must keep our thoughts harmonious and our feelings centered around love, an infinite source of balance. We are only at the beginning of our journey my friends. In the next article, I will explain the importance of reahcing the 5th dimension.